Each customer's core business and product is unique, so together we must tailor a solution that fits the customer's business model and long-term strategy for which core competencies should be developed at the customer and which ability Gerdins should contribute with. Our business developers help the customer with the analysis and definition of a productive interface and service content in the following areas.

We are a company with the ambition to: Be our customers' first choice in our business. Develop long term business and partner relations. Support our customer in the product development. Offer efficient production systems, via our own production and via our global network of suppliers.
We will strengthen the competitiveness of our customers and their products through technological development and manufacturing expertise. Our vision is to create long-term value for our customers, employees, shareholders and other stakeholders with profitability and growth and to develop the group into a one billion company.
QUALITY
EFFICIENCY
DEDICATION
RELIABILITY
The objectives in Gerdins Cutting Tech. is to meet our customers' needs and to deliver goods, products and services that meet customer expectations and requirements. A common goal for our companies is to produce and sell products and services in accordance with the sustainable development of our environment. We are certified according to ISO 9001 and ISO 14001.
Environment and sustainable development
Environmental care is a core value within Gerdins Group. It is characterized by the efficient use of resources, a comprehensive view and continuous improvement. There through, shall the Group's businesses gain competitive advantage and contribute to sustainable development.
Resource utilization means that the use of energy and raw materials are minimized. A comprehensive view means that environmental work must be integrated into all activities. This will be continuously improved, through participation of our employees, and through well formulated and clearly defined objectives.
Technology development includes: prioritizing transportation with low environmental impact, to continually reduce fuel consumption, noise and climate impact and to minimize the use of environmentally harmful materials.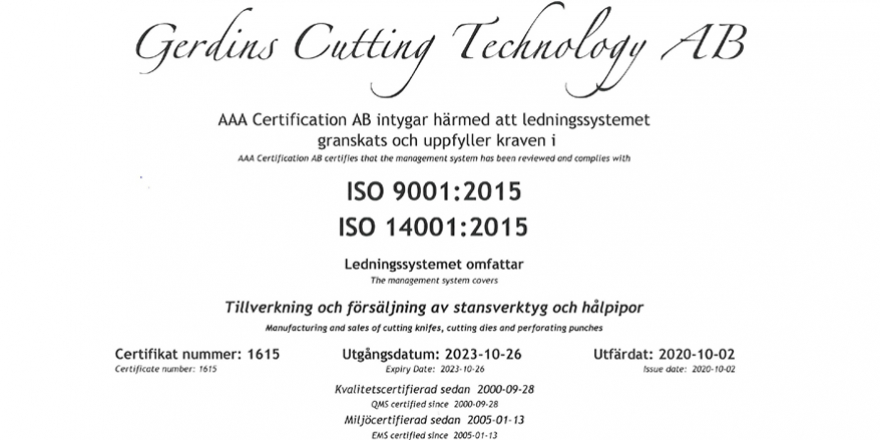 Gerdins has broad expertise in material selection, component selection, technical solutions, manufacturing methods and production technology that lead to better and more cost-effective solutions. "Time to Market" has been a mantra for decades. Gerdin's expertise contributes to shortening and reducing the risks in the development process. Our clients' success is our success and we free up time and resources for our clients so you can be successful in your market.